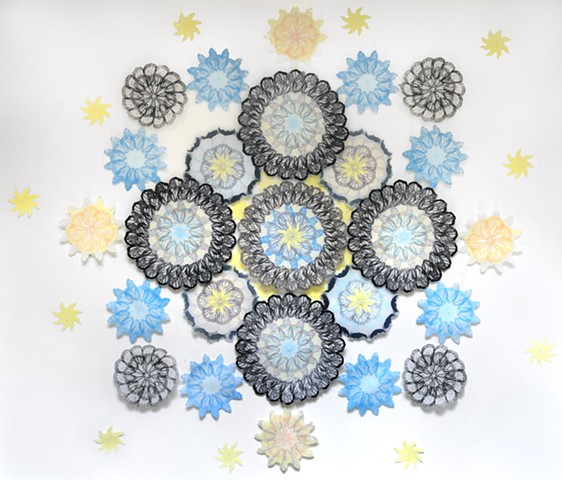 Artist Statement
Interview in The American Scholar
theamericanscholar.org/amelia-hankin/#.?
Excerpt from The Magus:
She is silent, she will never speak, never forgive, never reach a hand, never leave the frozen present tense. All waits, suspended. Suspend the autumn trees, the autumn sky, anonymous people. A blackbird, poor fool, sings out of season from the willows by the lake. A flight of pigeons over the houses; fragments of freedom, hazard, an anagram made flesh. And somewhere the stinging smell of burning leaves.
Cras amet qui numquam amavit quique amavit cras amet
"Tomorrow let him love, who has never loved; he who has loved, let him love tomorrow."
"The Vigil of Venus." 3rd Century AD
My current body of work is a response to this passage, a passage that I interpret as the brief, reflective silence when every detail is magnified. It's the human condition of reflection, regret, and emotional need, come to life in this prose. With this excerpt in mind, my work references a superstitious belief system that helps to quiet the "what ifs" and unpredictability of the every day. From picking up a penny for good luck to holding my breath past a graveyard, I find comfort in these actions, unwilling to take chances on habits ingrained from childhood, despite how irrational they may be. Through repetitive imagery rendered in fine detail, I question the tipping point between harmless acts of routine and the human obsession with order, manifested in these rituals.
My work uses familiar objects that have been assigned meaning, emotional weight, and purpose: folded paper that predicts the future, feathers that catch our dreams, and repeated butterfly wings that represent change. By the impositions of context and tradition, these images form connections with birth, regeneration, and death. Brought together, they acknowledge the microcosmic forces outside of our authority, which impact our lives in small, but tangible ways.
Amelia Hankin received her MFA from the Rhode Island School of Design. She has exhibited at the Janet Turner Print Museum (Chico, CA), Ellen Miller Gallery (Boston, MA), Eastern Oregon University, University of Richmond Museum (Richmond, VA), Ridderhof Martin Gallery at the University of Mary Washington (Fredericksburg, VA), International Print Center New York (New York, NY), the 808 Gallery at Boston University (Boston, MA), The Chazan Gallery (Providence, RI), Columbia College (Columbia, MO), The Xavier University Art Gallery (Cincinnati, OH), and the RISD Museum of Art (Providence, RI). She received an artist's travel grant to study Eastern woodblock printmaking techniques at Kyoto Seika University in 2005. Since then, Hankin has attended residencies at Pyramid Atlantic Art Center, the Women's Studio Workshop, and Vermont Studio Center.  Hankin is the Artist-in-Residence in Screenprinting at American University in Washington, DC.