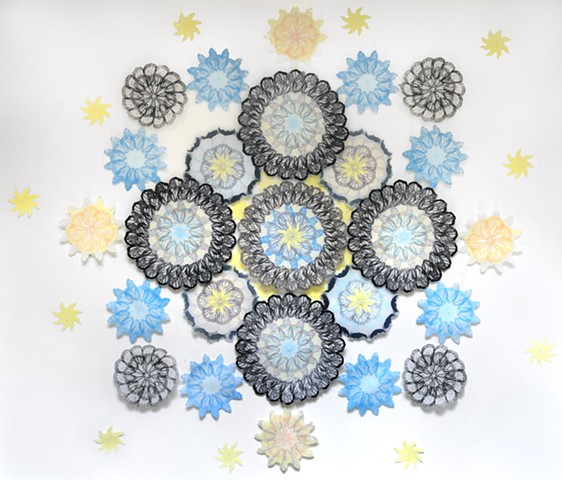 Interview in The American Scholar
theamericanscholar.org/amelia-hankin/#.?
Artist Statement
My work uses familiar objects that have been assigned meaning, emotional weight, and purpose: folded paper that predicts the future, feathers that catch our dreams, and repeated butterfly wings that represent change. By the impositions of context and tradition, these images form connections with birth, regeneration, and death. Brought together, they acknowledge the microcosmic forces outside of our authority, which impact our lives in small, but tangible ways.
Amelia Hankin received her MFA from the Rhode Island School of Design. She has exhibited at the Janet Turner Print Museum (Chico, CA), Ellen Miller Gallery (Boston, MA), Eastern Oregon University, University of Richmond Museum (Richmond, VA), Ridderhof Martin Gallery at the University of Mary Washington (Fredericksburg, VA), International Print Center New York (New York, NY), the 808 Gallery at Boston University (Boston, MA), The Chazan Gallery (Providence, RI), Columbia College (Columbia, MO), The Xavier University Art Gallery (Cincinnati, OH), and the RISD Museum of Art (Providence, RI). She received an artist's travel grant to study Eastern woodblock printmaking techniques at Kyoto Seika University in 2005. Since then, Hankin has attended residencies at Pyramid Atlantic Art Center, the Women's Studio Workshop, and Vermont Studio Center.  Grants include the Gottlieb Foundation and the Artists' Fellowship. Hankin is the Artist-in-Residence in Screenprinting at American University in Washington, DC.